Hi everyone! We are participating in Book Date's It's Monday! What Are YOU Reading?  and Comedy Plus' Awww…. Mondays Blog Hops.
I just finished reading a fantastic book by Elaine Faber titled Black Cat and the Accidental Angel ( Black Cat Mysteries Book 3). I completed it in less than 2 days because I couldn't put it down.
*Disclaimer : I received a Kindle edition of Black Cat and the Accidental Angel by Elaine Faber for free in exchange for a fair review. All opinions are my own.
It starts with a family driving home from a vacation with their pets. They get in an accident and the carrier with their two cats tumbles down an embankment. The family goes to the hospital depending on the local animal shelter to help take care of their pets. Unfortunately, no one realizes there were cats because of where they landed.
The story follows these two cats as they try to find their way home. Along the way, they help another family in need and help solve a mystery. This is a Christian novel so there are many references to angels and St. Peter which I found very comforting. I could not stop reading because I needed to know what would happen to these two cats and their family.
This was the third book in the series and I had no trouble following it, but I do wish I had read them in order and I am planning to read them soon. I highly recommend this book to any cat lover, especially those that love a mystery. If you are interested in reading it, here is the Amazon link.
The Black Cat in the story reminded me of our Angel Spooky.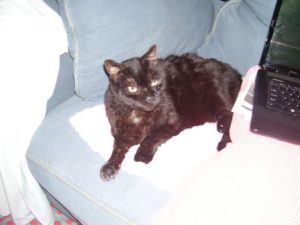 Save