Hi everyone! We are doing lots of hopping today. There is a new hop the first and third weekends of the month called The Pet Blogger Showcase, our friend Bear is a co-host.
Brody hopes he is Awww…worthy for Comedy Plus' Awwww….Mondays hop, he is also posing with one of the books I am currently reading for The Book Date's It's Monday! What are YOU Reading? hop.
  I thought this book was most appropriate for Rosh Hashanah. Manischewitz, The Matzo Family: The Making of an American Jewish Icon by Laura Manischewitz Alpern tells the story of an immigrant family that started making and selling matzo crackers in 1888, eventually building an empire selling many Jewish foods.Surprisingly, the family has not owned the company since 1991. I am not Jewish, but I love to make matzo ball soup and this is the only brand of matzo meal I will use. Everyone loves my soup, even my little great niece.
Today's word for the #JHC is Spooky. When I read the list of words for the challenge and saw Spooky listed, I just had to sign up.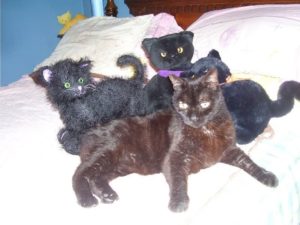 I love this photo of Spooky with these stuffed black cats.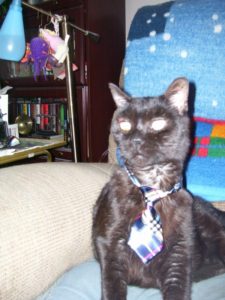 Spooky was a great sport, always willing to pose for me. My hubby and I miss him so much.
Don't forget to enter Phoebe's giveaway on yesterday's post: