Hi everyone! I got to see my Grammie on Saturday. I love her so very, very much.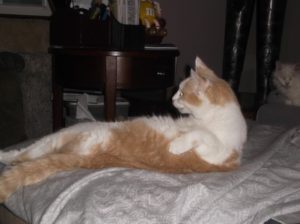 I am a little mad at Mom. She didn't send my photo to the Pawlympics for bathing. Look at how cute I am? I would have won a gold. Phoeey!
Sammy has offered to do a selfie. He is enjoying some oregano, yes oregano, Kali highly recommended it so Dad brought some inside. It didn't do a thing for me, but Sammy liked it. He smells like a pizza now- MOL!
We are joining The Cat on My Head Sunday Selfies Blog Hop.
and Rascal and Roccos Pet Parade