Hi everyone! This has been an exciting week. I got to see my Grammie Monday night and Wednesday. I love her so very much.
My friend Toby saw my post on Sunday and decided to give me a gold medal on my bathing even though I was past the deadline- isn't he sweet?
I have also joined my friend Nellie on Smoke and Joe's campaign, I am the speech writer.
This is my official ID.
And now for my friend Sammy's Poetry Day with the letter K:
Kindness
Simple as a purr
to show someone you care
do something today
Someone ( who wants to remain Anonymouse) sent mom a gift card for The Tiniest Tiger and she was able to get these 2 beautiful purses. Mom was very touched that someone was so thoughtful. I know fashion and these are nice bags, they have cute little metal cat paws on the bottom and the black one has lace paw prints all around the top.
For P.S. Annie's Throwback Thursday I have a photo from 2010, Joanie with Ricky the rabbit: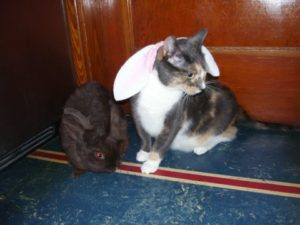 She had bunny ears on and was pretending to be a bunny too. Ricky rabbit lived to be 13 years old which is a very long time for a bunny.
And one more thing—the fill-ins for tomorrow, you know the drill. Mom came up with the first 2 and Annie of McGuffy's Reader came up with the second 2:
1. I wish ________________ would bring back ____________________.
2. An act of kindness that I do often is __________________________.
3.  I still have                           from my childhood
 4.  If I didn't have___________________ , I'd be completely lost.